Flashpoint Zoom TTL R2 Flash with Integrated R2 Radio Transceiver
Flashpoint and Godox are the same. The only difference is that Flashpoint is Adorama's branding of the Godox speedlite (in case you were wondering).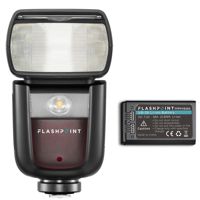 Image link is for Canon
This controller allows you to adjust both the power level of your flash and its zoom right from your camera. This saves you from having to walk over to where your flash is and adjust it by hand.
I use V-flats all the time either bouncing natural light for fill from a window or speedlite, or as negative fill to reduce light. These V-flats are super convenient to use and fold up so they fit in your car. Check 'em out at V-Flat World. com